Filter Cartridge That Maximizes Dirt Holding Capacity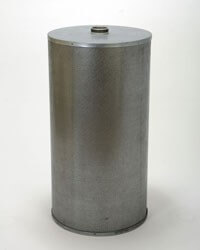 Meet the 2040 Platinum Series Filter. One 2040 PLATINUM Series filter is designed to have the dirt holding capacity of 150 standard 2.5 inch OD pleated cartridges of similar length. With a recommended flow rate of 450 GPM, this PS Filter PLATINUM Series filter is the solution to achieving optimum performance while minimizing filtration costs.
BENEFITS
• PS Filter's highest dirt holding capacity cartridge
• Provides significantly greater dirt holding capacity than traditional industry size cartridges
• High concentration of surface area and dirt holding capacity into one cartridges allows for small vessel footprint in sensitive applications
• Wide-range of media options allows for compatibility with most fluids
• Constructed with metal end caps and core for high temperature applications
• Absolute rated media with fixed pore structure prevents particle unloading and provides reliable results in critical applications.
Request Information